Toronto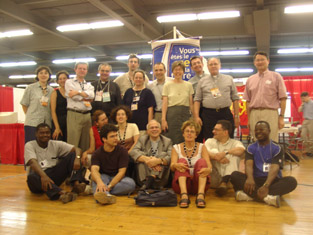 Exhibition Places, week of the JMJ. We are integrated into the team of the French volunteers of the Conference of the bishops of France. We find moreover our partners of the site www.lejourduseigneur.com We thought finally of taking advantage of JMJ, regrettably, this store becomes our daily prize: reports continue, 24 hours on 24.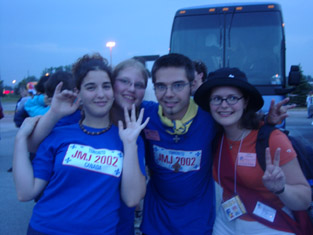 The arrival of the young people pélerins: a beautiful meeting, Stepha, in the centre. This young Quebecker is affected by an incurable disease but comes to offer to God its sufferings and his project, to become a singer. he is already surrounded with the gruppies!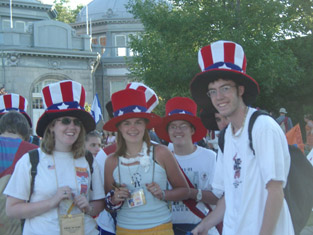 JMJ the American way. In the program, concerts, spectacles, and salesmen of hot dogs every ten metres. Difficult sometimes to collect itself in this festive atmosphere, but for the young Canadians, it is occasion unique to become reconciled with an alive Church. Many Quebeckers indeed turned the back a long time in their Church, " too present " to the 60s and quiet Revolution.
Among the young people who wanted to participate in the JMJ, many saw refusing visas in Africa and in Mexico. Here, the Palestinians came with Mgr. Marcuzzo, the bishop of Nazareth, and a group of the monastic Brotherhood of Jerusalem.
We overlap also in Toronto of the Americans whom we met during our trip: the buckle is curly. We shall not have been either really tourists, or really pélerins, 25 hours on 24 journalists at least, and maintaining friendly for the life! But all this, we shall tell it to you more in our log book: " It was a faith in the West "
-----------------------
To see our photos, click on the names of the cities you want to visit:
San Francisco - Los Angeles - Las Vegas
Denver - Saint Benedict (Kansas) - Saint Louis
Washington - New York - Boston