Montréal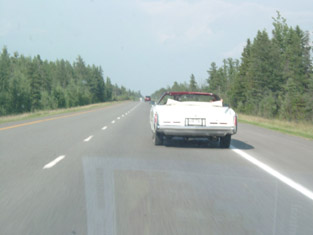 On the Canadian roads, we get acquainted with the moufette (in Quebecois), or at least the smell: it is a question in French of the polecat, of which one smells the smell of sulfur in more than four kilometres around! Better is worth closing windows...
Always in the work, we are welcomed in the studios of Radio Canada to record magazines for RFI Olivier would he have presenter's talents?
On the hill, somebody takes care of. Holy Joseph. The sanctuary dominates the city, most importing place of pilgrimage of North America: two million guests every year. Brother André is the father of this sanctuary. This pious and simple man was a doorkeeper of his congregation, the Fathers of Holy Cross in the building behind the Father Robert Choquette (to the right), who visits us the sanctuary.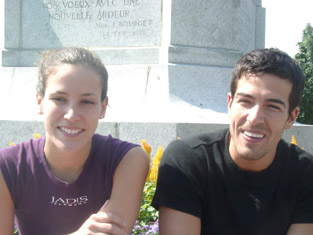 The morning of our departure, we cross accidentally Jean-Pierre Faucher, model, and Annie Langlois, designer of fashion, just like the Montreal youth: little sensitive to the Catholicism, but in spiritual collection. " People in Montreal are not catholic any more, but believe for many in God, in a force. We, we chose our apartment at feet of the sanctuary because without the peace and the meditation of this place, we meet ourselves. It is a cliff for us. In this place, we find our balance ".
-----------------------
To see our photos, click on the names of the cities you want to visit:
San Francisco - Los Angeles - Las Vegas
Denver - Saint Benedict (Kansas) - Saint Louis
Washington - New York - Boston
Wendaké (Québec) - Montréal - Toronto