Los Angeles
On the road which leads us to L.A, we stop on the beach of Santa Barbara. Hardly about ten persons on the white sand. The girls here do not have anything to see with corpulent American of which one we rebat ears. Just the time to prick a head, it is necessary for us to start again not to miss the RV in the evening in the archbishopric. Everybody said to us that one was going to like San Francisco and to get lost in tentacular Los Angeles. It is indeed a violent, but fascinating city. Hardly arrived, we join Marta Nunez, responsible for the Hispanic young people in the archbishopric. Olivier and I let us go to the meeting while Emmanuel parks the car. One sees then him landing with a head of funeral. he left keys in the car and closed the doorkeepers (in the discharge: we were not able to disconnect the two keys of Malibu, to wonder why Alamo gave us a double. Miracle, Marta has a subscription in the year for this kind of problem. One hour and a half later, the serrurier made its work. Emmanuel can witch off the engine. who had remained lit! Marta drives us at Ever and Christopher, two young Hispanic cotenants who agreed to welcome us.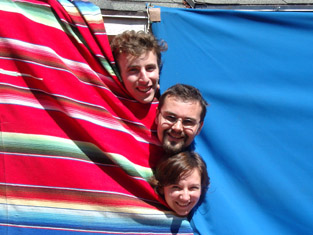 " Cheese ", directly of the L.A's Mexican district

Ever comes from Salvador, he is a draftsman of inside. Christopher is Mexican, he is an actor. Rather handsome boy. He speaks only about some words of English. We can not visit L.A, excess of taf. Ever is a little disappointed.
On Saturday, it accompanies us nevertheless at Catholic Workers, a community of couples or single which welcomes without protections. Dozens of homeless live under tent or boxes in the street. They queue up for the morning lunch, served in a garden which looks like a small paradise. In California, vegetation is so rich, the so generous sun that misery is it almost eased.
it is nevertheless violent. Catherine, responsible for Catholic Workers, welcomes for 30 years the thrown back of the American company with her husband. As Ever, as many Americans of Los Angeles, she wants it to Mgr. Mahoney, the archbishop of the city, to have spent 210 million dollars on the new cathedral.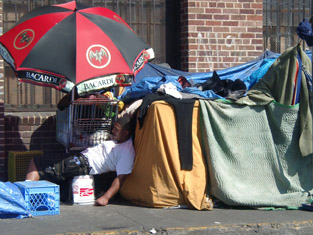 The district of NFA in Los Angeles, a nameless district

After the district of homeless, we leave for Placita, the oldest Hispanic church of the city, where the children are baptized with one hundred every weekend. (To know more about it thank you to visit our video on the site:www.lejourduseigneur.com).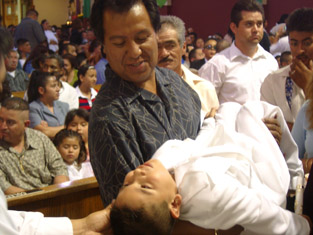 In our arivée in Placita, we find a row of children: 300 families wait for the ceremony of the baptism.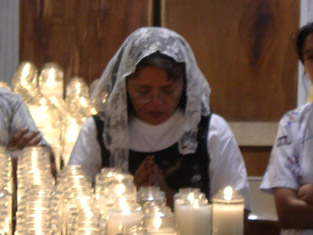 In Los Angeles, it is the Hispanic breaker: catholic Faith is strongly marked by its devotion the baroque.
-----------------------
To see our photos, click on the names of the cities you want to visit:
San Francisco - Los Angeles - Las Vegas
Denver - Saint Benedict (Kansas) - Saint Louis
Washington - New York - Boston
Wendaké (Québec) - Montréal - Toronto