San Francisco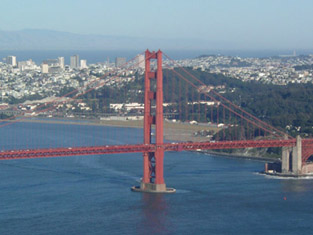 Golden Delicious Gate, necessarily (and for once, it is not under the mist)
In this city it is very strange one feels at home, maybe because 70 different communities mix there. Hardly off-loaded with the plane, jet lag still in teeth, adventure begins for us Sunday, 9. Meeting in the gay parish of SCI-FI, in Castro, the district homo. A very moving reception, testimonies which ask really question (to know more about it thank you to visit our video on the site: www.lejourduseigneur.com). The landing begins with the American dream. A couple of frenchies freshly married welcomes us: house in the Silicon Valley, an adorable little boy (Céline cracked, Fiat convertible and outfit of windsurfing boards; the hell which !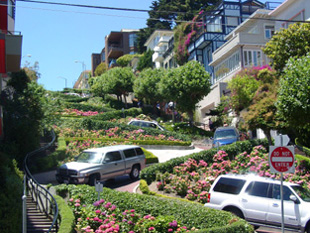 On Crooker street, the only "zigzag" of San Francisco
Quickly without having really the time to bathe, we resume our hardly undone bags and dive into Chinatown. The priest of Holy Pierre Saint Paul, the Chinese parish of the city, the Father Lam, has already organized everything for us. A family of adorable reception, two children, a shy but moving husband and a mother of a tried and tested faith (the portrait in the number of Christian Family of June 6). Second report in San Francisco: the catholic Chinese community (report on the site of Sunday, sends above). To note San Francisco is to become with Asiatic majority! "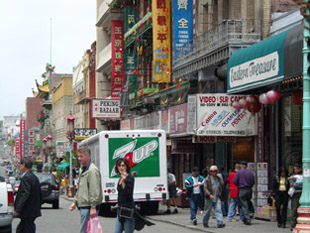 A city in the city: Chinatown

First big bad adventure: Céline loses her credit card with all our bars on her account. Cool! Feel reassured, she finds her two days later having made opposition. In the toilet bag! Oh nanas! (Céline's remark: " I assure you that I washed myself meanwhile! ")
As for all our stages, a family of reception waits for us: that from Elizabeth Lau to San Francisco, native of Hong-Kong.
-----------------------
To see our photos, click on the names of the cities you want to visit:
San Francisco - Los Angeles - Las Vegas
Denver - Saint Benedict (Kansas) - Saint Louis
Washington - New York - Boston